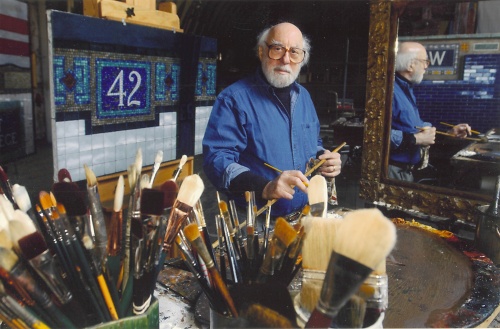 Photo by S. Farley for the New York Times.


All six Daniel Greene videos are now available in DVD!





Daniel E. Greene, N.A. is a former instructor of painting at the National Academy of Design and the Art Students League of New York. He is the author of "Pastel" that was in print for 25 years and "The Art of Pastel," which were published in English, French, German, Spanish, Italian and Chinese. In 1969, Mr. Greene was elected to the National Academy of Design.



Gold Medal presented in 2001 by the Portrait Society of America
The Encyclopedia Britannica considers Mr. Greene the foremost pastelist in the United States and in 1983, the Pastel Society of America elected him to the Pastel Hall of Fame. In 2003, the Pastel Society of the West Coast named Mr. Greene a Pastel Laureate. In 1989, his work represented the United States at the first International Biennial of Pastel in San Quentin, France. In 1992, he was awarded American Artist's magazine's first Lifetime Achievement award in the category of oil painting and the Oil Painters of America Society named him to their Hall of Fame. In 1995, the American Society of Portrait Artists presented the John Singer Sargent award to Daniel Greene for lifelong dedication to the achievement of excellence in portraiture. In May 1999, Mr. Greene was the recipient of the Benjamin Clinedinst Medal of the Artist's Fellowship at a presentation in New York City. In 2001, he was awarded the Gold Medal of the Portrait Society of America. On May 26, 1994 in a special White House ceremony, Mr. Greene presented to Hillary Rodham Clinton a pastel portrait of Eleanor Roosevelt. In 2003, Mr. Greene was the annual honoree of the Salmagundi Club and was presented their Gold Medal.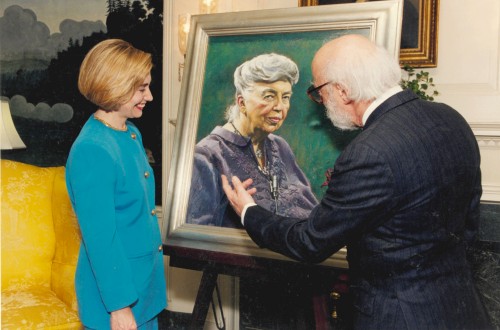 Daniel Greene presenting the pastel portrait of Eleanor Roosevelt to former
First Lady Hillary Rodham Clinton at the White House, May 26, 1994
Mr. Greene's paintings and pastels are in over 500 public and private collections in the United States and abroad. He has been the recipient of the Elizabeth T. Greenshields Foundation grant and the Anna Lee Stacey grant. A retrospective exhibition of Mr. Greene's paintings and pastels was held in 1987 at the Hammond Museum in New York. Four highly successful exhibitions of Mr. Greene's subway series appeared at Gallery Henoch in New York and were featured on ABC-TV, Fox News, PBS, CNN, New York 1, NHK TV Japan, and in over 50 international magazines and newspapers. His recent exhibition "Subway Paintings" at the New York Transit Museum at Grand Central Terminal was the inaugural event in the centennial year of the New York subway. Mr. Greene has been the featured artist in American Artist magazine 15 times. Articles about his work have appeared eight times in the Artist's Magazine. Favorable reviews have appeared three times in Art News magazine. In February 1999, Mr. Greene's paintings were featured in a cover article of the International Artist magazine. In 1998 Daniel Greene was interviewed in the Academy Award nominated documentary "Ayn Rand, a Sense of Life" and was recently the subject of the cable documentary "The Genuine Article" as well as a PBS documentary featuring his subway paintings. Mr. Greene's figure and still-life paintings are handled by Eleanor Ettinger Gallery in New York, New York, Cavalier Gallery in Greenwich, Connecticut as well as Nantucket, Massachusetts and Miller Gallery in Cincinnati, Ohio.

Highly regarded as a portrait artist, his subjects include leaders of government, banking, education, and industry. A few of the early works include Mrs. Eleanor Roosevelt, astronaut Walter Schirra, author Ayn Rand, and William Randolph Hearst. Some governmental portraits include Governor Scott of North Carolina, Governor Laxalt of Nevada, Governor Beliles of Virginia, Governor Lehman of New York, as well as two mayors of New York City. Some later portraits include Dave Thomas of Wendy's, Governor Fob James of Alabama, commentator Rush Limbaugh, Congressman Billy Tauzin, composer Alan Menken and Bryant Gumbel of CBS. Some recent portraits include john and Adele Lehman for Harvard, Eric Widing of Christie's and Governor Benjamin Cayetano of Hawaii. A partial list of sitters includes the chairmen of the boards of Honeywell, Coca-Cola Company, Dupont Corporation, American Express, the New York stock exchange and IBM. Mr. Greene has also painted the deans and presidents of: Tufts, Duke, Columbia, North Carolina, West Point, Delaware, New York, Princeton, Rutgers, Yale and Harvard universities.



Daniel Greene has hand selected pastels and brushes for the portrait artist. Please see his Brush Sets and Pastel Sets.

Check our workshop schedule for this year's workshops.


(click images to enlarge)



Daniel E. Greene awarded:
Jack Rucheson & Co. Gold Award
The Pastel Society of America
National Arts Club, New York, NY





Honoree and Faculty Member for Faces of Winter 2012 ~ A Daniel Greene Festival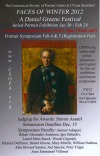 Herman Marguilies Award for Excellence "Self Portrait -
Grand Central"
Pastel Society of America's 39th Annual Pastels Only 2011 Exhibition




Daniel Greene's painting
"At the Auction"
was featured on the cover of the
Journal of the Portrait Society
3rd Quarter, Volume 13, no. 52




Fine Art Connoiseur
Sep / Oct 2011
"Daniel Greene Takes
Manhattan (Again)"




American Artist, Nov 2011
"Daniel E. Greene:
Studio Inventions
Depicting the Real"




International Artist
Oct / Nov 2011
"New York's Hot Mix:
Daniel E. Greene, N.A."




Studios 2011, Aug 2011
"Daniel E. Greene &
Wende Caporale:
A Barn in North Salem"




Daniel E. Greene, N.A.
"New York's Hot Mix"
Eleanor Ettinger Gallery
24 W. 57th St.
New York, NY 10019
Oct 13, - Nov 05, 2011
Opening reception - Oct 13
6:00 P.M. - 8 P.M.




White Orchids - 2010"
by Daniel Greene
Finalist in Blossom II
Susan Black Foundation




Advertisement in January 2011 ArtNews featuring Daniel Greene's painting "Spring Street,
Looking Uptown"




Director George Lucas has selected artist Daniel E. Greene to paint portraits of "Princess Leia (Carrie Fisher)" and Queen Amidala (Natalie Portman)" for the new Abrams art book "Star Wars Visions." Mr. Greene's portrait of "Princess Leia" is featured on the back cover of the just published trade book and signed limited edition prints by Daniel Greene and Jamie Wyeth are offered in the deluxe edition.






An interview with Mr. Greene has also just been published in a book "100 Voices" An Oral History of Ayn Rand" by Scott McConnell, that describes Mr. Greene's relationship with Ayn Rand while painting portraits of her from 1959 to 1962.




International Artist
Jun/Jul 2010
"A Day in the Life of an Artist"
Interview with Daniel Greene




American Art Collector
"A Master at Play"
May 2010




Artists Magazine
May 2010 Issue (2 Page spread)
"The Design Is In the Details"




International Artist
April/May - Issue 66
"The Making of a Masterpiece"



American Art Collector
Mar 2009
Daniel Greene, N.A.
Creating Masterpieces
by Joshua Rose



Sep 16, 2007
The Great American
Artworks Award
Pastel Society of America





Gladys E. Cook Award
for Painting - National Academy Museum, 182nd Annual Members Exhibition May 15, 2007




Daniel E. Greene awarded:
The Art Spirit Foundation
Silver Medal Award for
Excellence in Pastel at the 128th Annual Members Exhibition
Salmagundi Club, New York, NY





Subway Paintings
Note & Postcards
are also available
for purchase.